November 16th, 2009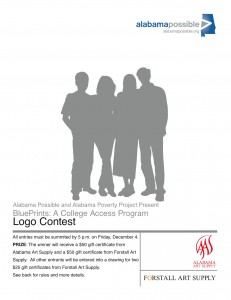 Are you looking for an artistic outlet to design and create? Do you have the desire to impact social change with your artistic abilities? Are you creative and enjoy designing logos? If so, then this contest is for you!
We are sponsoring a logo contest for BluePrints and we want you to be involved. The winner will receive a $50 gift certificate from Alabama Art Supply and a $50 gift certificate from Forstall Art Supply.  All other entrants will be entered into a drawing for two $25 gift certificates from Forstall Art Supply.
Blueprints is a program which helps low-income and first generation students connect with college-aged mentors to design a "blueprint" for their post-high school years.
For more details about the contest and how to get involved, click here.
All entries must be submitted by 5 p.m. on Friday, December 4.
This is a great opportunity to get involved with APP and use your gifts to make a positive difference!
Posted by Haley Heckman