December 15th, 2009
APP's staff, VISTA volunteers and student workers took a trip yesterday to Greensboro to meet with folks at and HEROProject M.
When we first arrived in Greensboro, it looked like a pretty typical Black Belt town – a Main Street with lots of empty storefronts, a Confederate War memorial and beautiful old homes. It still looks like Walker Evans and James Agee memorialized it in Let Us Now Praise Famous Men.
But appearances can be deceiving.
My first surprise was what the HERO storefront looks like. It is a super cool modern façade built byAuburn Rural Studio architecture students with a combination of new and reclaimed materials.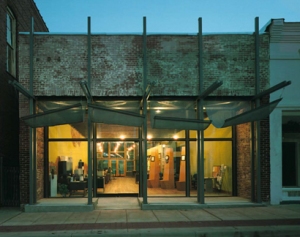 My next surprise was how many hipsters there were. Almost everyone I met said they were "from Brooklyn." Since they didn't have Brooklyn accents, I quickly figured out that meant they live(d) in one of the borough's artsy enclaves.
We visited the HERO offices and toured some of the homes built by the Rural Studio students and the HERO/Habitat for Humanity volunteers. Then we went for lunch at Mustang Oil, the local gas station/lunch spot. I have to tell you that this city girl never thought I would be eating lunch (a delicious shrimp po boy and sweet potato fries) in a gas station.  Life is an adventure!
We did some more sightseeing after lunch and then went to Pie Lab for pie and coffee before we headed back home. Pie Lab is intended to be a "third place" between work and home where the community can come together for dialogue and creative interaction. My pie (cranberry and sweet potato) was yummy, and the Higher Grounds Magic City Blend coffee came straight from a French press.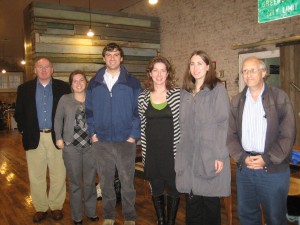 The folks I met in Greensboro – especially Pam Dorr – have done an amazing job of bringing attention and resources to this impoverished community. Clearly the creative class sees Greensboro as an opportunity to hone their design skills while doing good.
Is that sufficient? Who are they doing good for? Themselves? The local residents?
We met two young female architects from Auburn who are almost done with their thesis project : a mobile concession stand for the local sports park, which has baseball, football and rodeo fields. These students designed the concession stand with a roof that opens so that the counter is open on three sides. It's mobile too. This unusual design came about because they talked to the women who volunteer to sell snacks. The volunteers said that they wanted to see their kids play on the fields. Thus the mobile, retracting roof concession stand was born! (I wish I had a picture, but we visited in the midst of a thunderstorm.)
One of my guiding principles is that better results are achieved through collaboration with community members. But I didn't hear much about community input. In fact, I didn't hear the word charrette once (which was a little surprising). Maybe there are meaningful opportunities for community input – but they don't seem to be woven into the fabric of the work. I hope is it another case of appearances being deceiving.
Posted by Kristina Scott