March 22nd, 2010
The Christian Science Monitor reports that Alabama is the second biggest loser of jobs in the nation. (Michigan is the first.) According to US Department of Labor reports, the last time we had so few people working was in 1993.
Why?  Alabama leaders have long promoted low-skill, low-wage, non-union workers as our state's primary draw for employers. As a result our economy depends on industries such as lumber, construction, and textile manufacturing to employ our workers. Yet in the current recession, these industries have declined steeply since 2007.
Meanwhile, higher-skilled jobs in car manufacturing and professional services are going to our neighbors in Tennessee and Georgia.
One explanation? Low educational attainment. Alabama's high school drop out rate is over 39 percent, and only 23.1 percent of Alabamians have a bachelor's degree. Our college enrollment rate has"dropped by double digits since the early 1990s." According to the Southern Education Foundation, if more Alabamians had high school diplomas and college degrees, Alabama could attract more employers from a wider array of industries, including high-skilled manufacturing and professional services sectors.
The good news: as bleak as these numbers are, some cities in Alabama are showing notable job growth. A Moody's index reported by The Economist ranks several Alabama towns as job hot spots. In a list of 384 metropolitan areas, Huntsville ranked number one in potential job growth, followed by the Auburn-Opelika area in second, Columbus-Phenix city seventh, and Mobile twelfth.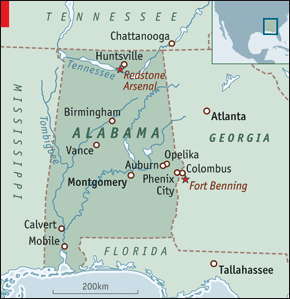 These areas have attracted jobs by focusing on high-skill, high-wage jobs. Huntsville earns its number one slot thanks to the defense and aerospace industries; Auburn has a thriving university; Phenix City has the Kia plant and Fort Benning; and Mobile benefits from ongoing Katrina reconstruction and the ThyssenKrupp elevator plant.  These cities have also been able to take advantage of funding from the federal stimulus package.
In order to remain competitive, we need to develop a skilled workforce.  That's why APP created theBlueprints college access program to equip Alabama high school students to attend college and compete for the jobs of tomorrow.
Posted by Robyn Hyden