REGISTRATION IS OPEN!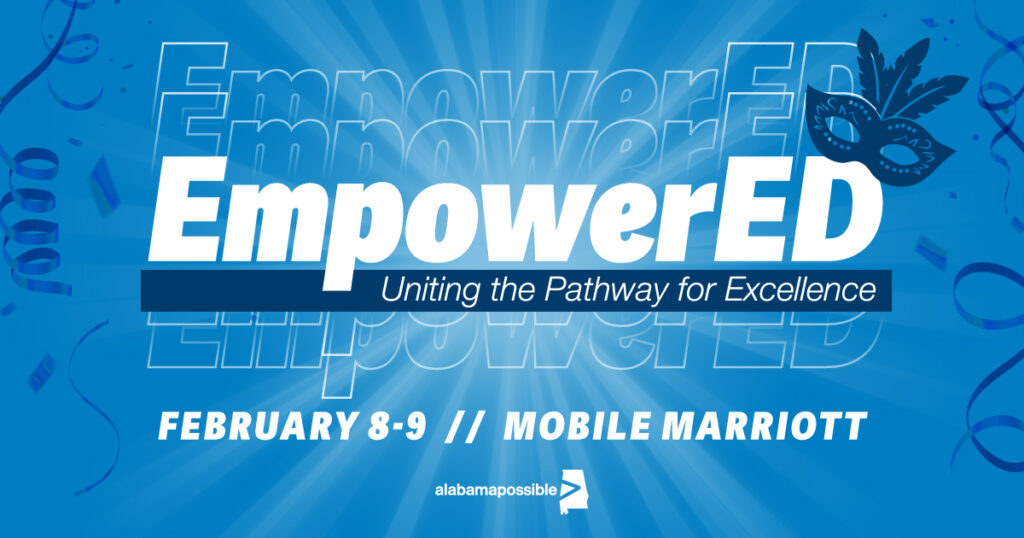 Registration is OPEN!!
Join us for a historic and groundbreaking conference, the nation's first gathering of the Historically Black Community College (HBCC) and Predominately Black Community College (PBCC) Network. Hosted by Alabama Possible, this momentous event aims to create a platform for collaboration, inspiration, and knowledge-sharing among leaders, educators, and students within the HBCC/PBCC network.
About the Conference: The EmpowerED Conference is a two-day event that brings together community college professionals, thought leaders, and students from Historically Black Community Colleges (HBCCs) and Predominately Black Community Colleges (PBCCs) across the nation. Together, we will explore innovative strategies, best practices, and transformative ideas to advance educational excellence and equity within our institutions.
---
Hotel
MOBILE MARRIOTT
3101 Airport Blvd. | Mobile, AL 36606
(251) 476-6400
Make reservations by January 17, 2024 to receive conference rate of $199/night
---
Agenda at-a-glance
DAY 1
8:00 am – 8:30 am: Registration & Breakfast
8:30 am – 9:00 am: Welcome Address
9:00 am – 10:30 am: Opening Plenary
10:45 am – 12:00 pm: Concurrent Sessions
12:00 pm – 1:30 pm: Lunch and Keynote Speaker
1:45 pm – 3:00 pm: Concurrent Sessions
3:15 pm – 4:00 pm: Closeout Plenary and Student Panel
5:30 pm – 8:30pm: Dinner at The Africatown Heritage House with a Fireside Chat featuring Africatown descendants, Commissioner Merceria Ludgood, and Film maker Theodore Moore (RSVP required)
DAY 2
8:00 am – 9:00 am: Alabama Legislative Discussion (Invitation only)
8:00 am – 8:45 am: Registration & Breakfast
9:00 am – 9:30 am: Welcome Address & National Press Conference
9:30 am – 11:00 am: Opening Plenary: Building Stronger Communities through Education
– Keynote Address by Dr. Harry L. Williams, CEO/President of the Thurgood Marshall College Fund
– Panel Discussion: Cultivating Partnerships for Community Engagement and Economic Impact
11:15 am – 12:30 pm: Concurrent Sessions
12:30 pm – 1:45 pm: Closing Lunch Celebration
1:45 pm – 2:00 pm: Closing remarks and Reflections
6:30pm: Mardi Gras parade
9:00pm: MAMGA Grand Marshal's Ball (limited seats)
---
 Registration
General registration: $450.00
Early bird registration: $350.00 (register by December 31, 2023)
Student registration: $50.00
---
Alabama Possible is thankful for the partners and sponsors of the
EmpowerED Conference