Give Now
Support Alabama Possible
Alabama is the sixth poorest state in the country, with 19 percent of our neighbors and an astonishing 28 percent of our kids living in poverty.
Alabama Possible empowers our members to go beyond charity and create justice. Without justice, the systemic causes of poverty will continue, and the need for charity will be endless.
Creating justice means examining poverty's systemic causes — including limited access to quality education, nutritious food, and living wage jobs – and then using every tool at our disposal to affect systemic change. Please help make Alabama a more just community by making a financial contribution to Alabama Possible.
Suggested giving levels:
Or, give at the level of your choosing below:
AP is 501(c)(3) nonprofit and all donations are tax-deductible.
Donate in memory or in honor of a loved one:
You will can enter their name, address and other details at the Paypal donation page below. They or their family will receive a written acknowledgement of your gift.
Recurring gifts:
Pledge monthly or annually recurring gifts to AP. Contact us for more options about recurring donations.
Thank you for your support. With your philanthropy, advocacy, and volunteerism it is possible to end poverty in Alabama.
Give the gift of Alabama-grown potential
with Alabama Possible Holiday Gift Memberships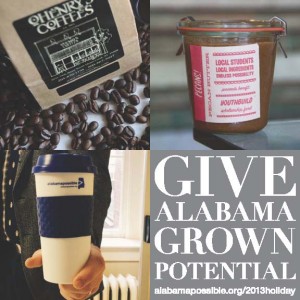 We're teaming up with two of Alabama's most popular producers for our 2013 membership premium to offer Alabama-roasted coffee, Alabama-ground pecan butter, and Alabama-grown potential.
Alabama is the sixth poorest state in the nation, and more than 910,000 of our neighbors live in poverty. Alabama also has a wealth of uncovered potential, and that's why Alabama Possible educates, collaborates, and advocates to reduce and one day end poverty in Alabama. One way we do that is with our Blueprints College Access Initiative, which connects high school students and their families with resources and relationships so they are equipped to graduate from high school college- and career-ready.
For your donation of $50 or more, we'll mail your honoree a gift box with an Alabama Possible travel mug, Birmingham's O'Henry's Coffees Christmas Blend, Greensboro's Pecans! Pecan Butter, and a special note acknowledging your gift and their membership in Alabama Possible.
Order here by midnight on Thursday, December 19, to make sure your gift arrives on time. Payment is accepted via PayPal, and please contact T.C. McLemore at tmclemore@alabamapossible.org or 205-939-1408 with any questions.